ß

-Refibre
Reconstruction *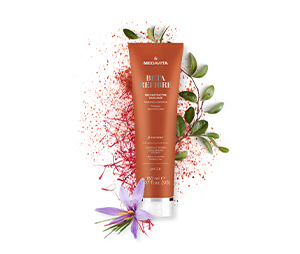 WHAT DOES OUR HAIR STRUCTURE NEED?
Our hair needs amino acids.
After extensive study of the amino acids in keratin, Medavita created AMINO CONCENTRÉ. It is a complex of three pure amino acids with low molecular weight – serine, threonine and carbocisteine – which penetrates deep into the innermost layer of the hair fibre.
WHAT DOES AMINO CONCENTRÉ DO?
Amino Concentré works directly, by selectively repairing the hair fibre, and indirectly, by providing long-lasting care, trapping the ß-carotene molecule in the structure and converting it into vitamin A.
As a result, Amino Concentré:
CONDITIONS, SEALING THE SCALES
RESTRUCTURES, FILLING THE GAPS IN DAMAGED HAIR
REPAIRS, REBUILDING THE STRUCTURE OF THE KERATIN FIBRES
UNBEATABLE EFFICACY*.
After just 4 weeks of complete treatment, hair has:
MORE BODY AND STRUCTURE*

visible from the very first application and increases throughout the treatment

MORE STRENGTH*
VITALITY AND BRILLIANCE*
SOFTNESS AND ELASTICITY* of the fibre
LONGER-LASTING HOLD AND GREATER MANAGEABILITY*
HAIR IS VISIBLY RESTRUCTURED AND HEALTHIER IN 100% OF CASES*.
Hair is given a new lease of life – healthier and more beautiful than before.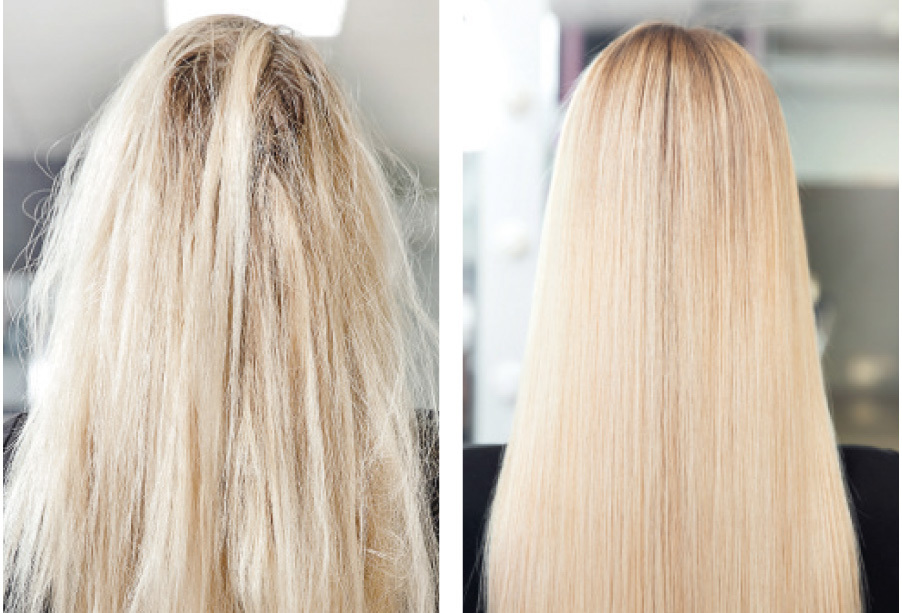 The active ingredients
1 ß-carotene

β-carotene is a provitamin, a precursor of vitamin A, and has antioxidant and protective properties. It is found in plants, fruit and vegetables, it effectively fights free radicals, boosts tissue growth and repair, promotes healthy mucosa and eyesight and protects against pollutants.

2 Amino Concentré

This complex contains three low molecular weight essential amino acids – serine, threonine and carbocisteine – which are able to penetrate the fibre deep down. It has an instant effect, selectively repairing the hair fibre.

3 Arginine, glycine and glutamic acid

These fundamental amino acids protect against damage caused by chemical agents, heat and stress. They reduce static and have film-forming properties, which are useful in the hair regeneration process.
The
ß

-Refibre products


SALON TREATMENT
Reconstructive Hair Fluid pH 7.1

Reconstructive Hair Fluid pH 7.1

Deep restructuring hair fluid that repairs the fibre.

LEARN MORE

Reconstructive Shampoo pH 5.8

Reconstructive Shampoo pH 5.8

Creamy shampoo that compacts and repairs the hair fibre.

LEARN MORE

Reconstructive Hair Mask pH 2.6

Reconstructive Hair Serum pH 3.2

Reconstructive Hair Serum pH 3.2

Deep restructuring hair serum that repairs the fibre.

LEARN MORE

Reconstructive Hair Microemulsion pH 3.2

Reconstructive Hair Microemulsion pH 3.2

Deep restructuring microemulsion spray that repairs the hair fibre.

LEARN MORE

Shampoo Ricostruttore pH 5.8

Shampoo Ricostruttore pH 5.8

Creamy shampoo that compacts and repairs the hair fibre.

LEARN MORE

B-Nectar Reconstructive Hair Cream pH 5.5

B-Nectar Reconstructive Hair Cream pH 5.5

A beauty nectar for hair whose cosmetic effect is instant. This cream tames hair and leaves it looking glossy from the very first application.

LEARN MORE

Reconstructive Hair Mask pH 2.6
The
ß

-Refibre products


HOME TREATMENT
Reconstructive Hair Fluid pH 7.1

Reconstructive Hair Fluid pH 7.1

Deep restructuring hair fluid that repairs the fibre.

LEARN MORE

Reconstructive Shampoo pH 5.8

Reconstructive Shampoo pH 5.8

Creamy shampoo that compacts and repairs the hair fibre.

LEARN MORE

Reconstructive Hair Mask pH 2.6

Reconstructive Hair Serum pH 3.2

Reconstructive Hair Serum pH 3.2

Deep restructuring hair serum that repairs the fibre.

LEARN MORE

Reconstructive Hair Microemulsion pH 3.2

Reconstructive Hair Microemulsion pH 3.2

Deep restructuring microemulsion spray that repairs the hair fibre.

LEARN MORE

Shampoo Ricostruttore pH 5.8

Shampoo Ricostruttore pH 5.8

Creamy shampoo that compacts and repairs the hair fibre.

LEARN MORE

B-Nectar Reconstructive Hair Cream pH 5.5

B-Nectar Reconstructive Hair Cream pH 5.5

A beauty nectar for hair whose cosmetic effect is instant. This cream tames hair and leaves it looking glossy from the very first application.

LEARN MORE

Reconstructive Hair Mask pH 2.6